Company:
AWeber Communications
Problem:
Back in 1998, AWeber was the original autoresponder – a tool that would automatically send out emails to people who opted in to your mailing list. While these tools are still incredibly valuable, the email marketing landscape has become more sophisticated. Customers now expect an automation platform to perform pre-determined actions when a customer clicks on a link, makes an online purchase, etc. AWeber was lacking in this higher-level functionality, and despite its deliverability reputation in the industry, was losing ground to new competitors.
Based on customer requests, we began work on an ambitious project to build a UI that would allow customers to create complex campaigns. The UI had to be simple, clean, and easy to use. We wanted to give our customers as much flexibility as possible without overwhelming them with options.
After weeks of brainstorming, sketching, prototyping, and development, we arrived at a solution that began making headlines in the email marketing space right away – even while it was only in public beta. It was a monumental effort put forth by the entire company, and we came out successful in the end.
Video Introducing Campaigns
My Contributions:
Customer interviews
Heuristic analysis
Business analysis
Collaborated on requirements gathering
Collaborated on release iteration planning
Created wireframes
Created clickable prototype
Collaborated on interaction design
Collaborated on more robust prototype
Performed usability tests of prototype
Provided UX support for developers by answering questions as they arose
Performed pre-release usability tests with customers
Iterated on initial design
Screenshots
The Campaigns index page, where you can manage all of your active campaigns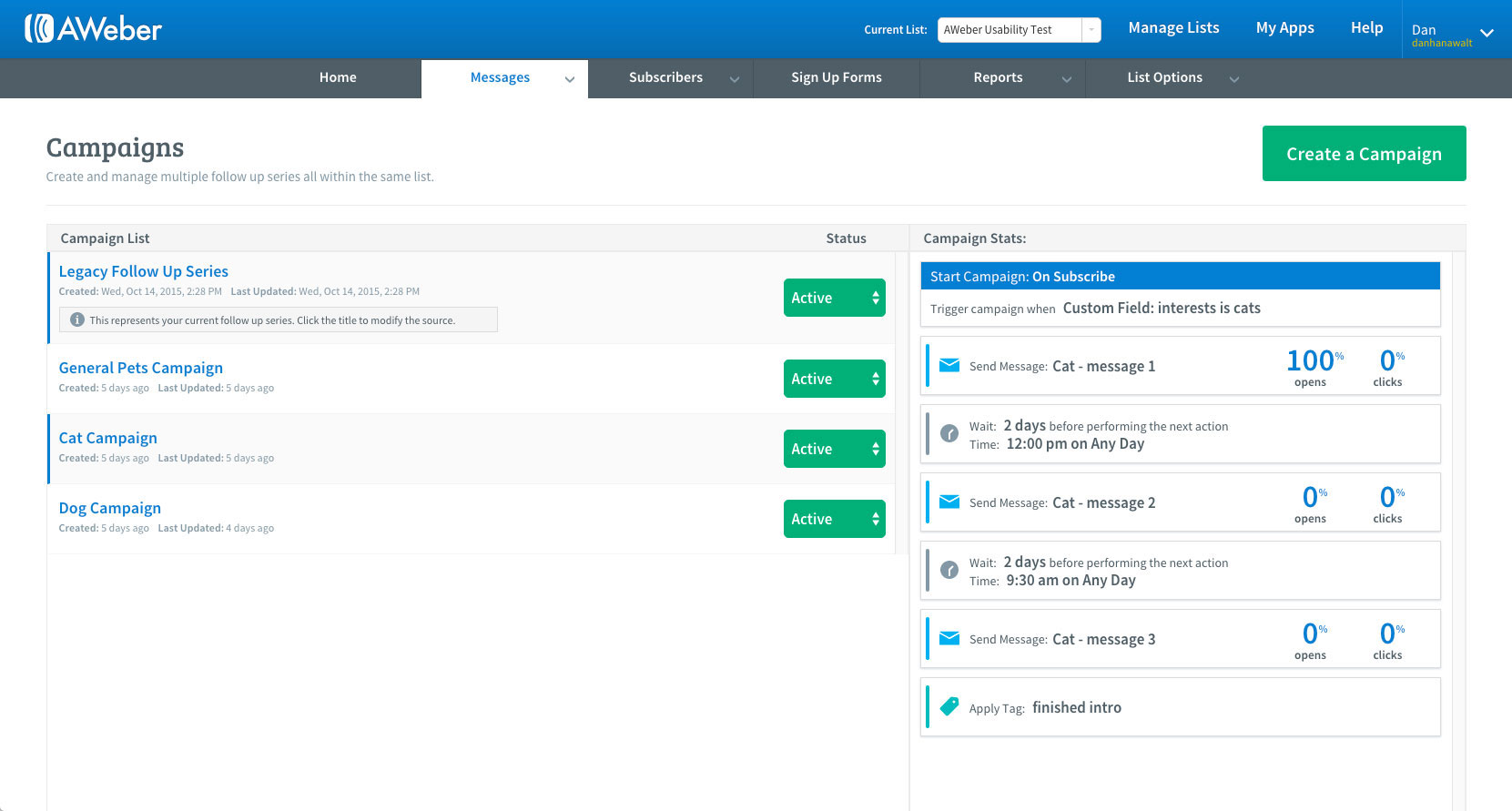 The campaign editor, where you can define how the campaign should work